Many have asked how to contribute. Please click here for more information.
ST. PETER'S BASILICA, VATICAN CITY, ROME

The photograph below has captured the spiritual energy created over 2000 years ago on 35 mm film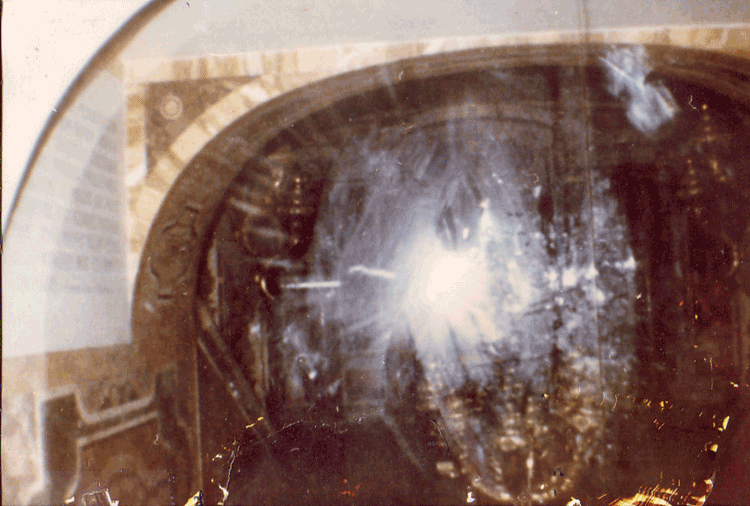 Directly beneath the altar in St. Peter's Basilica. Taken by Pamela Christiansen in 1983.


Guardian of a Sacred Place


In the top right corner is a Seraph Angel (a guardian of a sacred place, Isaiah Chapter 6), holding a Divine Spear.
In the middle can be seen the face of Christ and Satan, with St. Peter forming wings and raising his arms to Christ.

| | |
| --- | --- |
| Seraph Negative (left). | Seraph Angel True Color, extracted (right). |


We have kept the negative film as evidence of authenticity. A scan of this is available here.



The Good Shephard


This photo taken of a Holy Bible reprint shows a beam of light across Christ's face that wasn't present at the time.
NATIVE AMERICAN TENDING SHEEP


"And you are my sheep, human sheep of my pasture, and I am your God" - Ezekiel 34:31

STATUE OF VIRGIN MARY


Eyes appear closed in one photograph, and open in the other. Photos taken in Italy by friend of Louise Price Phillips.





+++


17:20 Being asked by the Pharisees when the Kingdom of God would come, he answered them, "The Kingdom of God doesn't come with observation;

17:21 neither will they say, 'Look, here!' or, 'Look, there!' for behold, the Kingdom of God is within you."

17:22 He said to the disciples, "The days will come, when you will desire to see one of the days of the Son of Man, and you will not see it.

17:23 They will tell you, 'Look, here!' or 'Look, there!' Don't go away, nor follow after them,

17:24 for as the lightning, when it flashes out of the one part under the sky, shines to the other part under the sky; so will the Son of Man be in his day.

(Isaiah 6; Saint Luke 17)

+++

[

EWTN.com

] [

FranciscanMissionaries.com

] [

Youtube.com/EWTN

]

Many have asked how to contribute.

Please click here for more information

.

+++

He saith unto them, "Whom saith ye that I am?" Simon Peter (Cephas) replied, "Thou art the Christ (Messiah), Son of the living God." And Jesus answered him, "Blessed art thou Simon, Son of Jonah, for flesh and blood hath not revealed this to thee, rather my Father in heaven. And I also saith unto thee, that thou art Peter and upon this rock I shall build my church; and the gates of Hades (hell, netherworld, powers of death) shall not prevail against it. I will give you the keys to the kingdom of heaven, and whatever you bind on earth shall be bound in heaven, and whatever you loose on earth shall be loosed in heaven "
[Saint Matthew 16:15-19]



© 1998-2012 Ezek.org, The Seraphic Order Auxiliary: Isaiah Chapter 6. All Rights Reserved.